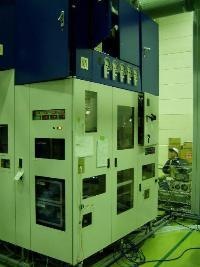 NSS has been providing a full range of consulting, evaluation and testing services for all applicable SEMI guidelines for over 10 years. NSS conforms to the requirements set forth in SEMI S7. Our engineers are knowledgeable and experienced using the SEMI guidelines and generally have greater than 10 years performing SEMI evaluations. Our evaluation methods are designed to provide a comprehensive S2 evaluation at a reasonable cost and with minimal disruption to the machine development and construction process. Our reports are comprehensive and are presented in such a manner to clearly explain your machine's design and conformance to the SEMI guidelines in a clear and concise manner.

Semiconductor Industry Safety Guidelines

The most common standards used during the assessments are:

● SEMI S2 – ENVIRONMENTAL, HEALTH, AND SAFETY GUIDELINE FOR SEMICONDUCTOR MANUFACTURING EQUIPMENT

● SEMI S8 – SAFETY GUIDELINES FOR ERGONOMICS ENGINEERING OF SEMICONDUCTOR MANUFACTURING EQUIPMENT

● SEMI S10 – SAFETY GUIDELINE FOR RISK ASSESSMENT AND RISK EVALUATION PROCESS

● SEMI S14 – SAFETY GUIDELINES FOR FIRE RISK ASSESSMENT AND MITIGATION FOR SEMICONDUCTOR MANUFACTURING EQUIPMENT

● SEMI S22 – SAFETY GUIDELINE FOR THE ELECTRICAL DESIGN OF SEMICONDUCTOR MANUFACTURING EQUIPMENT

Evaluation Process

At NSS, we perform our SEMI evaluations in distinct phases, from the machine design stage through final testing. Our goal is to provide comprehensive initial evaluations in order to minimize machine modifications during the final construction phases, which are costly and time consuming.

- Phase 0 - Consulting (Optional)

For clients unfamiliar with SEMI S2 and the relevant guidelines, we can provide consulting services. The purpose of these services is to introduce our clients to SEMI S2 and the other guidelines applicable to their machine, explain the technical requirements of the guidelines, and explain the evaluation process as well as performance testing requirements.

- Phase 1 - Preliminary Evaluation

During the initial phase of our evaluation, we perform a preliminary design review and risk assessment. The preliminary safety evaluation is intended to identify those non-conformances, which are most likely to require major design changes or modifications so that modifications to the machine once construction has started are minimized. A comprehensive report is issued after the preliminary evaluation.

- Phase 2 - Intermediate Evaluation

During the intermediate phase of the evaluation, we review documentation, drawings, and perform a visual inspection of the equipment to confirm that non-conformances identified in the design phase have been adequately addressed. Our preliminary report is updated as needed to reflect items brought into conformance or identify additional issues to be resolved.

- Phase 3 - Final Evaluation and Testing

During the final stage of the evaluation, we perform final inspections and testing of the equipment to verify conformance to the SEMI guidelines. At the completion of the project, we issue a comprehensive final project report.